Student Life
STUDENT INVOLVEMENT
Student Societies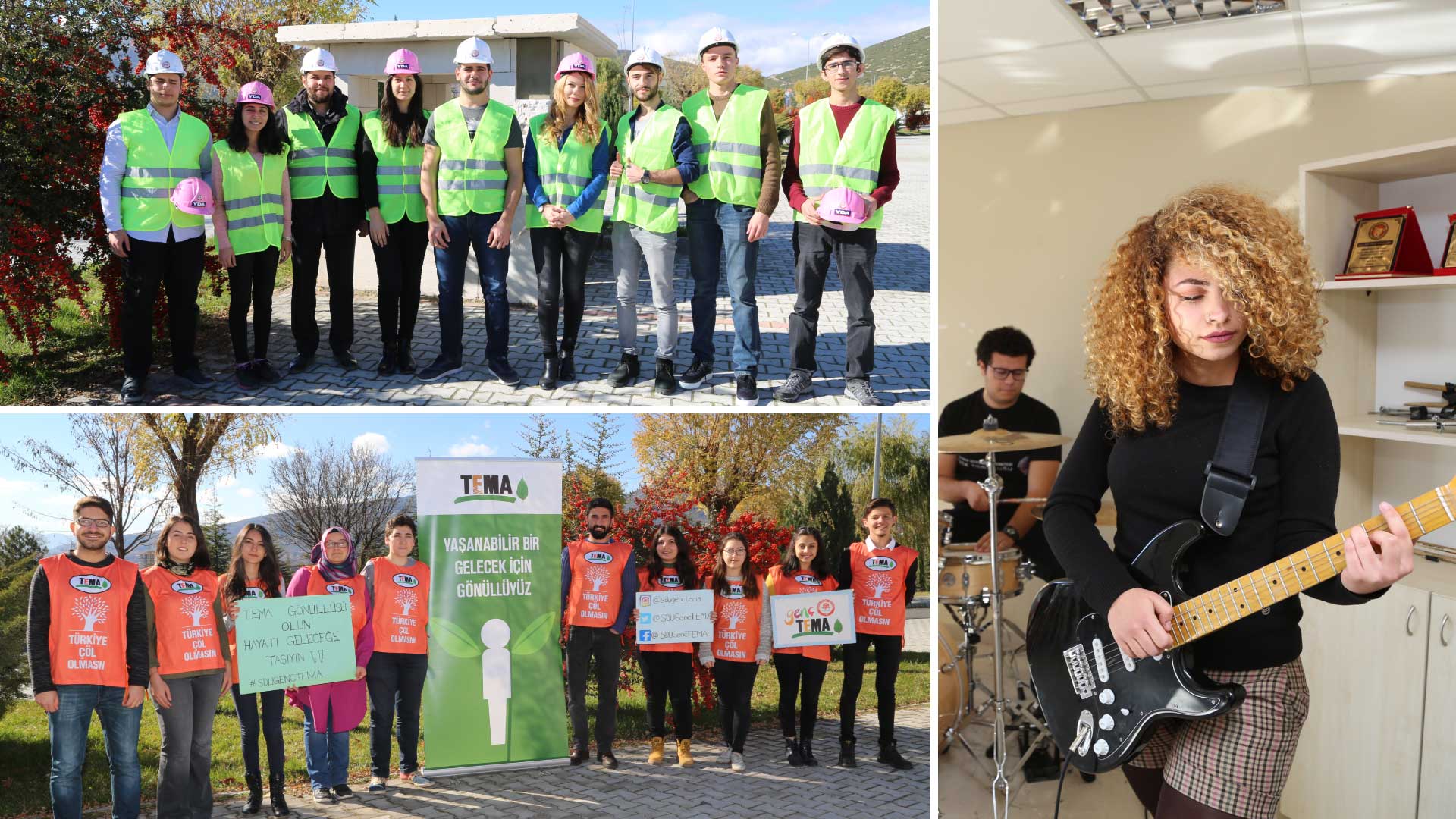 As of the academic year 2019, the SDU is by far the most colourful university of Turkey with 104 student societies. These societies offer wide range of hobby alternatives to students. You have a chance to spend quality time by attending activities and acquiring new skills and socialize at the student societies ranging from science, culture and art.
The activities are superintended by the academic advisor and are supervised via the decisions made by the executive board of member students. In order to become a member of these groups and participate in the activities, one should apply to the Office of International Relations and Exchange Programs Coordination and Directorate of Health, Culture and Sports, and fill out a membership form.
You can view the activity calendar of the student societies via
https://sksdb.sdu.edu.tr
List of the Student Societies:
Culture and Book Society
Folk Dance Society
Cinema Society
Water Sports Society
Food Society
Dance Society
Chess and Mind Games Society
Industry and Quality Society
Health Economics Management Society
Debating Society
Mountaineering and Skiing Society
Atatürk's thought Society
Theatre Society
Sign Language Society
Aviation Society
Galatasaray Fans Society
Literature Society
International Cultural Interaction Society
Physics Society
Social Policy Society
Turkish World and Relative Communities Society
Textile Society
Red Crescent Society
Turkish Language Society
History Society
Ombudsman and Mediation Society
Sociological Thought and Philosophy Society
Communication and Young Executives Society
Music Society
Motorcycle Society
Archaeology Society
Geosciences Society
Religious(?)/Faithful(?) Youth Society
Photography Society
National Culture Society
Construction Society
Rock Society
Electronics and Communication Engineering Society
International Students Society
Ebru (Marbling) Society
Geography Society
Project Research Development and Application Society
International Engineering and Technology Students Society
Young Sanitarians Society
Archery and Shooting Society
Academic Thought Education Civilization Society
Software and Cyber Security Society
Policy Design Society
Law and Justice Society
Theology Information and Thought Society
Career and Entrepreneurship Society
Physiotherapy and Barrier-Free Life Society
Eğirdir Vocational School of Health Services Society
Oral and Dental Health Society
Critical and Analytical Evaluation Society
Social Media Society
Süleyman Seba University BJK Society
Chemical Engineering Society
Young View Society
Global Mission Society
African Culture Promotion and Research Society
Diplomacy Society
Art and Architecture Society
Academic Coordination Society
Robotics and Innovation Society
Strategic Thought Society
Financial Management Society
Turkish Homeland Society
Healthy Life(?)/ Fitness(?)Society
Young Writers Society
Educational Sciences Society
Undergraduate Active Youth Society
Idealist Youth Society
Computer Society
Ottoman Civilization Society
Tourism Society
SDU Young Green Crescent Supporters Society
Culinary and Gastronomy Society
Fashion Society
Signs on the Road Society
"Rise and Warn" Thought Society
Undergraduate Trabzonspor Fans Society
Health and Goodness Movement Society
Ethnosports Society
Young TEMA Society
Freshmen Society
Turkish Medical Students Society
Energy Efficiency Society
Machinery and Automation Society
Bursaspor Fans Society
Animal Protection Society
Alternative Energy Vehicles Society
Information and Values Society
Undergraduate Fenerbahçe Fans Society
Mathematical Society
InnovaTIM Society
Politics and Government Society
Environment Society
Fencing Society
Biological Research Society
Event Development and Experience Improvement Society
Firefly Society
Soyakan Society
Economy Management Society
CAMPUS HIGHLIGHTS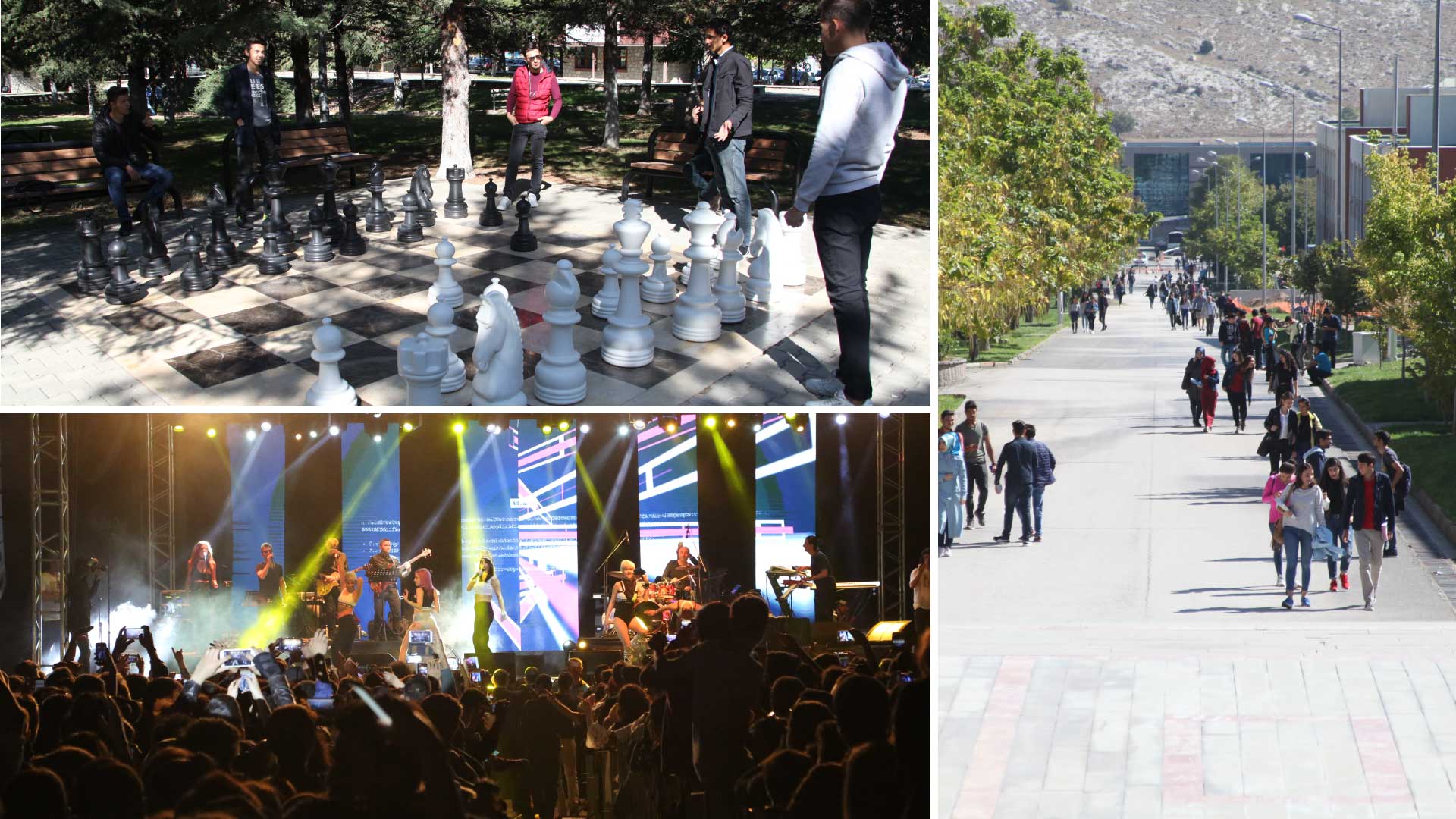 SULEYMAN DEMIREL UNIVERSITY RECREATION CENTER
The Social Life Center, which has been implemented on an area of 36.843 square meters on the Eastern Campus of SDU as of the 2019-2020 academic year, consists of 2-storey blocks around an inner courtyard of football pitch size and has the characteristics of Bedesten in classical Turkish architecture.
It will be a center of attraction not only for SDU but also for the city of Isparta with its cinema halls, game center, grocery store, outdoor sports fields, recreational open spaces, amphitheater and show platform, and various kinds of food, beverage and shopping units.
PROF. DR. HASAN GÜRBÜZ INFORMATION CENTER (LIBRARY)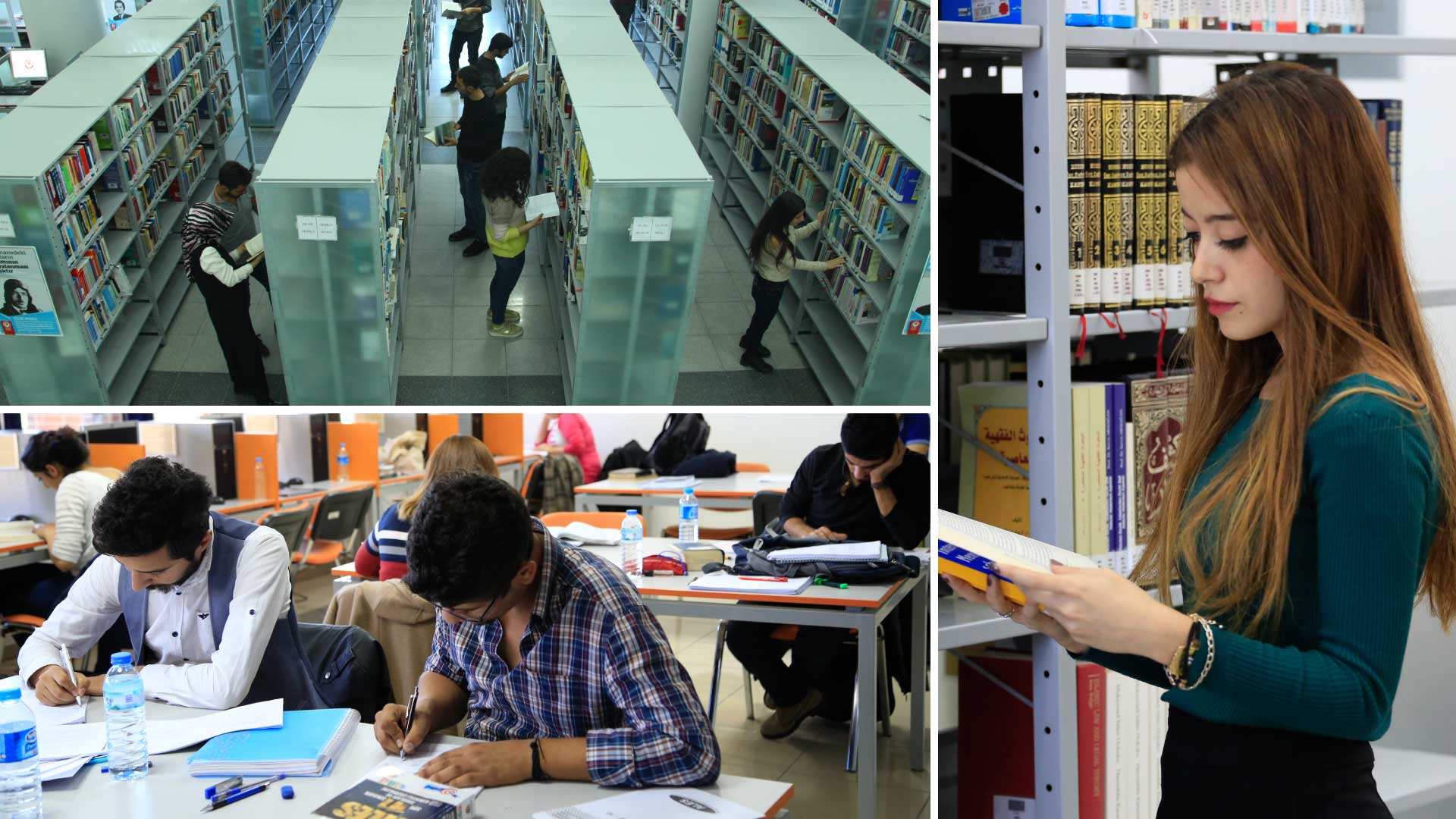 The information center serves in a modern building with 4 floors occupying an area of 8000 square meters with the capacity of 950 persons. There are 27 staff members employed at the information center, including 7 librarians who are experts in their field.
The information center has a rich collection consisting of 160.000 published books, 170.000 e-books, 971 periodicals, 37.046 e-periodicals, 10.046 CD-DVD materials and 53 online databases providing a basis for scientific researches.
The library catalog can be viewed by visiting the Catalog Search web page or using the OPAC terminals located on each floor of the Library. All publications available at the information center is accessible via OPAC (Online Public Access Catalogue).The catalog can be searched for author, title, topic, series, etc. In order to reach University Theses, You should click on Catalog Search and select Suleyman Demirel University Library Thesis from the list of search options. Master's and doctoral theses prepared before 2001 are only available in printed format; those dating from 2001 and later may be available in electronic format in full text.
You can search the catalog and find more information via http://kutuphane.sdu.edu.tr/en
Contact: 0 (246) 2113570
DINING HALLS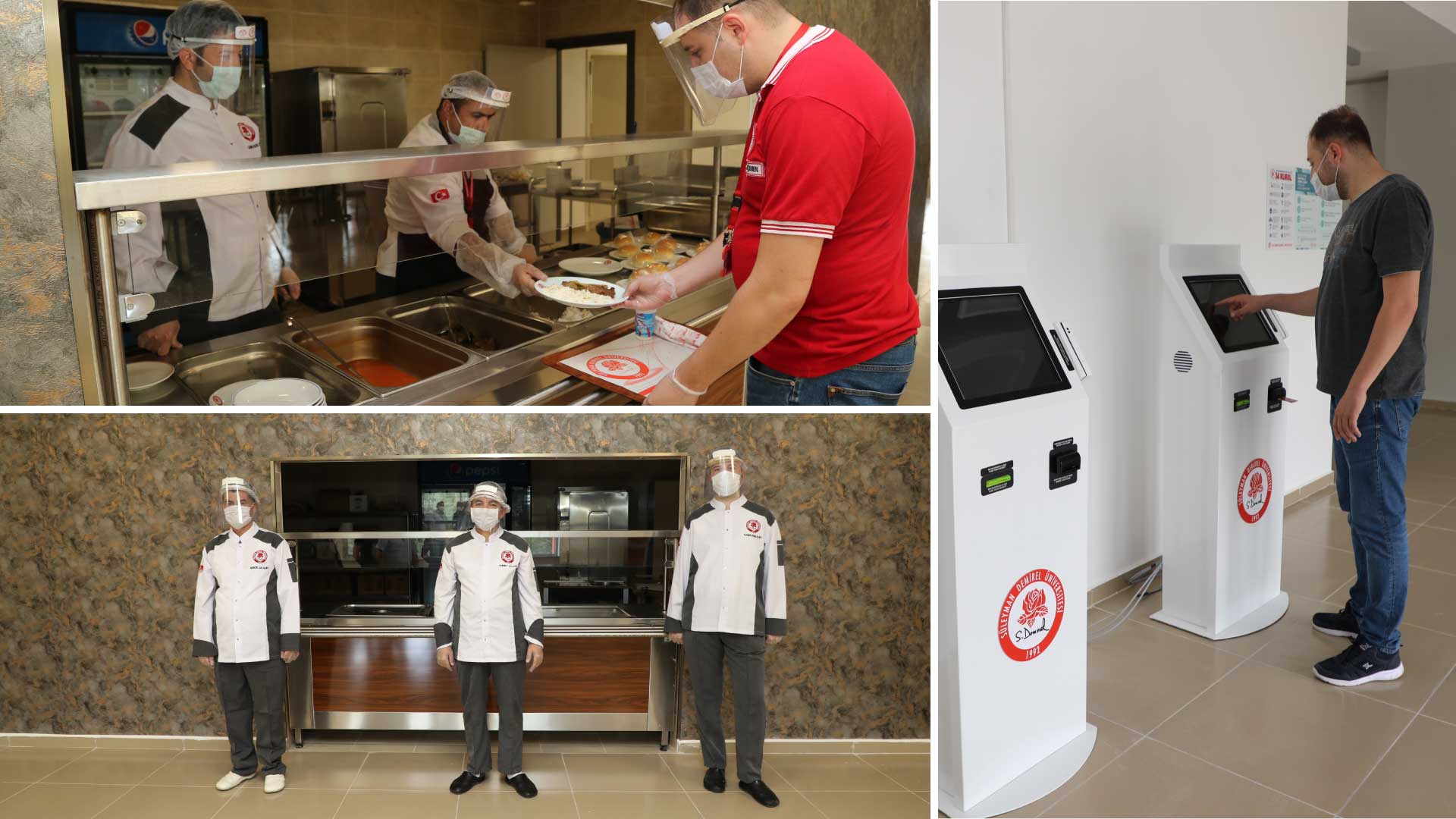 In the dining halls, meals are presented in the best and healthy conditions and a monthly menu is prepared including daily nutrients under the control of a dietician for students, academic and administrative staff.
The dining halls serve between 11:00 a.m.-14:00 p.m. and 16:00-19:00 p.m.
West Campus Student Dining Hall
East Campus Student Dining Hall
Faculty of Dentistry Student Dining Hall
Farmer Training Center Dining Hall
Faculty of Divinity Dining Hall
Faculty of Medicine Dining Hall
Atayalvaç Vocational School of Health Services Dining Hall
Vocational School of Justice Dining Hall
Eğirdir Vocational School of Health Services Dining Hall
Isparta Vocational School of Health Services Dining Hall
SÜLEYMAN DEMIREL UNIVERSITY TRAINING AND RESEARCH HOSPITAL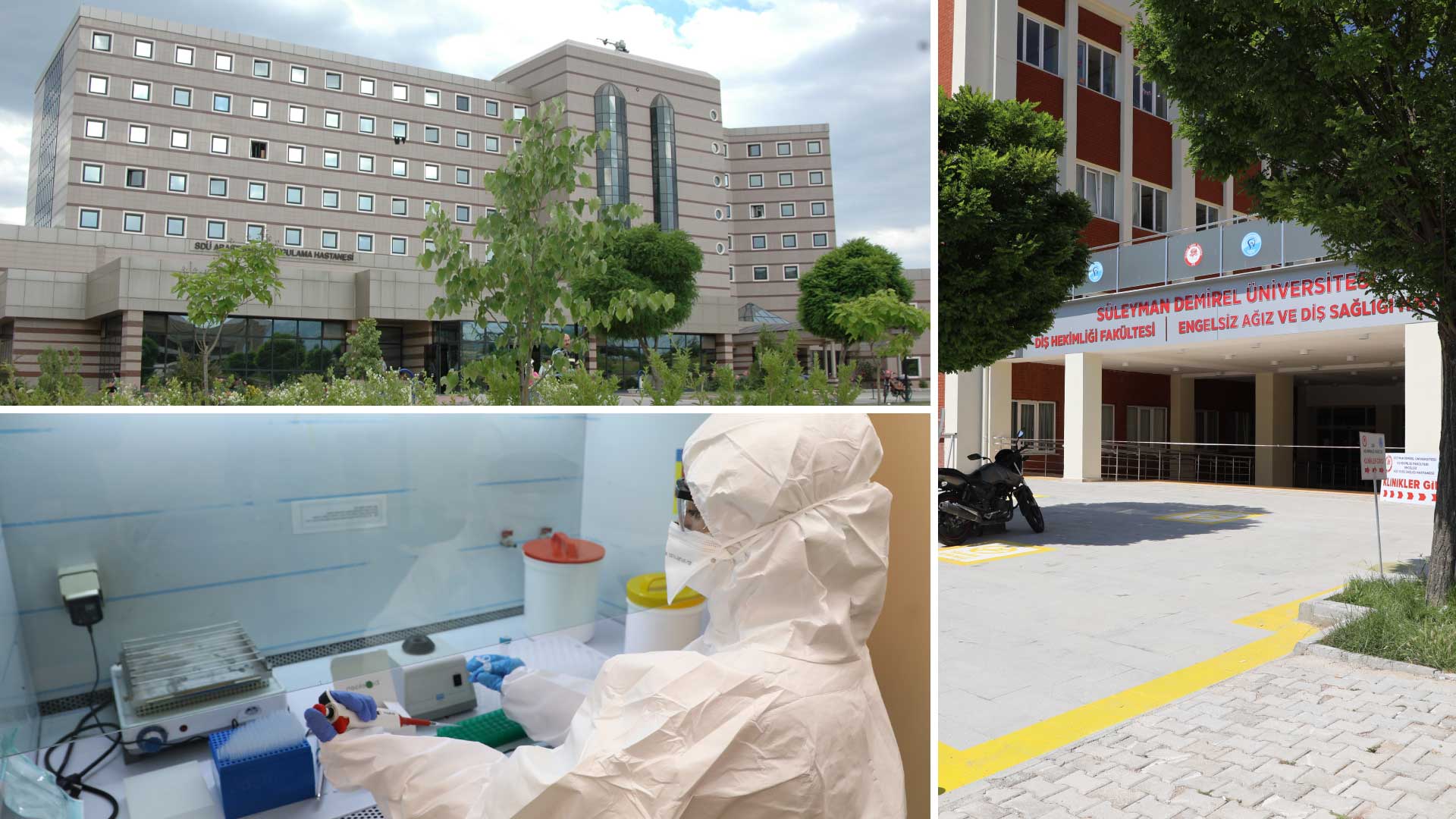 Located on the East Campus, our hospital has a capacity of 600 beds and 34 departments serving with the awareness of providing the highest quality health service with its large and outstanding academic staff.
You can make an appointment and find more information via http://hastane.sdu.edu.tr/
SPORTS FACILITIES
East Campus Sports Facilities
1) 29 Ekim Olympic Swimming Pool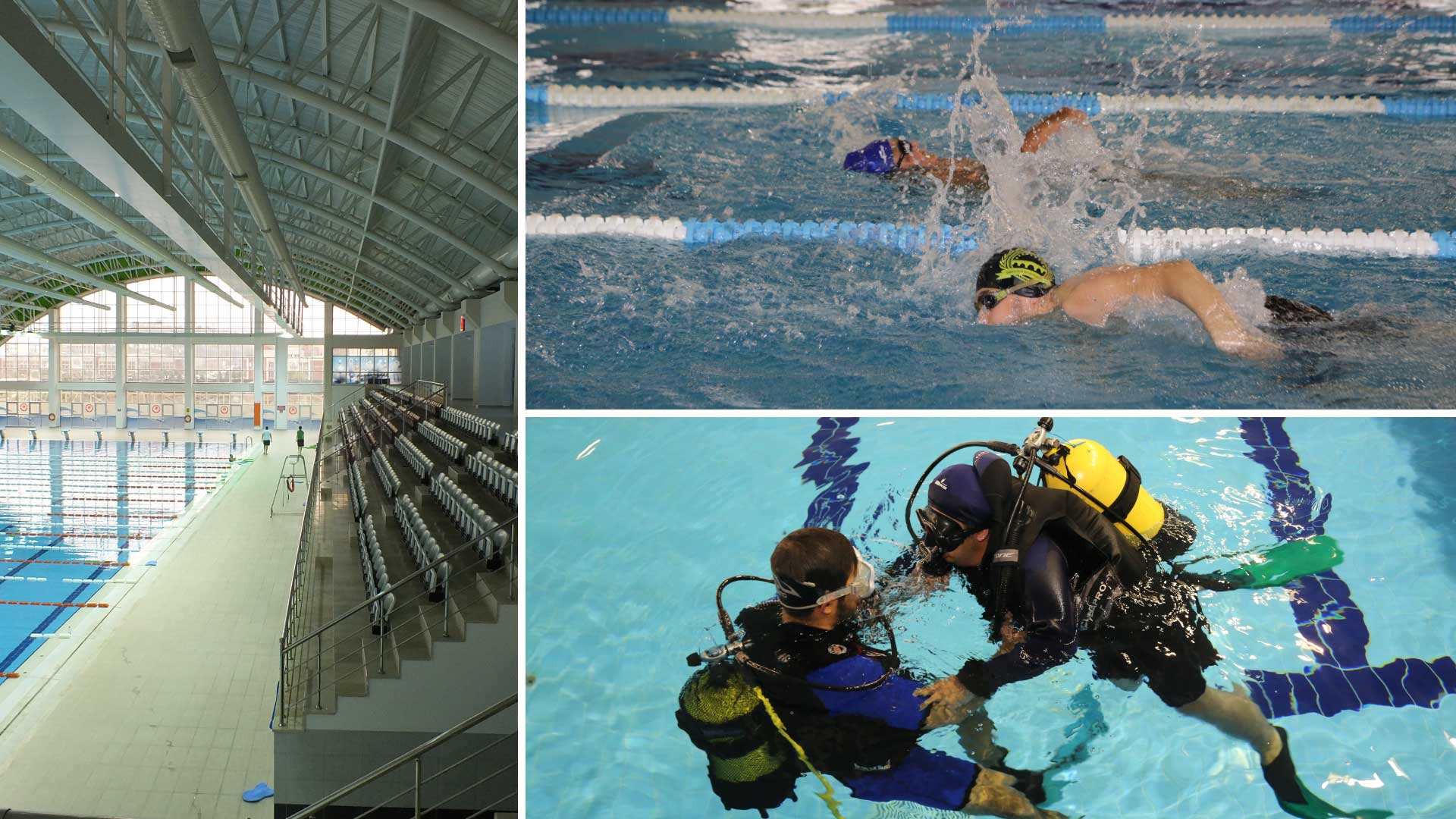 29 Ekim Olympic Swimming Pool located on the Eastern Campus is one of the leading sports facilities of the region with the feature of being full-olympic. In addition to swimming courses, diving and scuba training can also be provided in the pool.
In the facility, 1 fitness center is open to students, staff and citizens. Participants who use the fitness center can work with an instructor.
In addition, 2 saunas are available to students, staff and citizens. There is also one VIP sauna.
There are two vending machines to serve tea, coffee and food.
You can find the program and price list via http://sportesisleri.sdu.edu.tr/tr/29-ekim-olimpik-yuzme-havuzu.html
2) Atatürk Sports Hall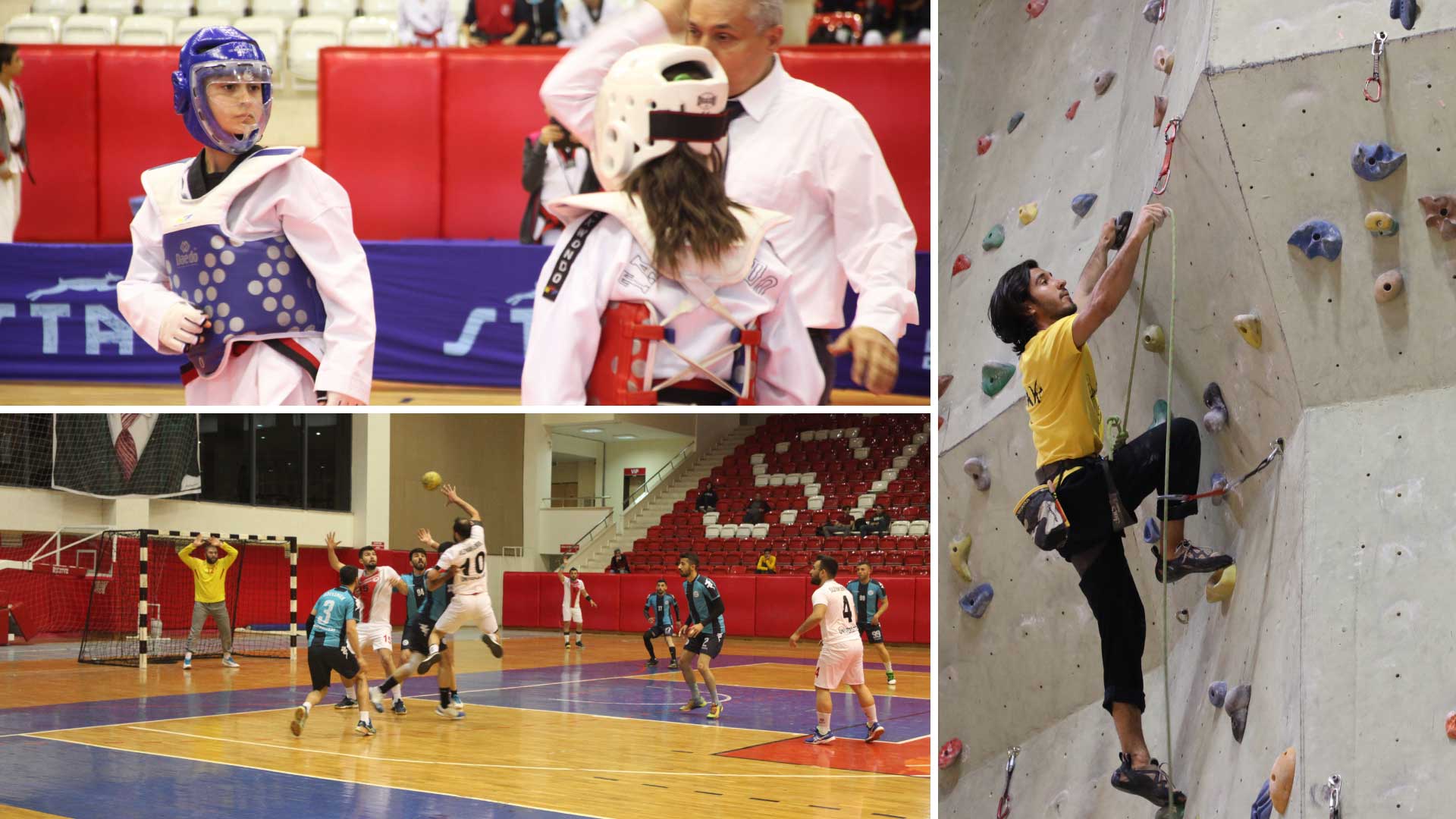 Atatürk Sports Hall, located on the Eastern Campus of our University, has the capacity to host the events organized for all sports. Furthermore, Atatürk Sports Hall has a horizontal and vertical climbing wall, 2 fitness halls, step / aerobic hall, individual sports hall and squash hall. In line with the demands of our students and staff; Step-Aerobics and Pilates, Zumba Fitness, Muay Thai, Kick Boxing, Karate, Volleyball, Badminton etc. courses are provided by our expert trainers.
In addition, the hall hosts many student clubs such as Archery, Water Sports, Aviation, and Folk Dance Societies.
There are 2 saunas for men and women in Atatürk Sports Hall.
You can find the East Campus Sports Facilities program and price list via http://sportesisleri.sdu.edu.tr/tr/ataturk-spor-salonu.html
West Campus Sports Facilities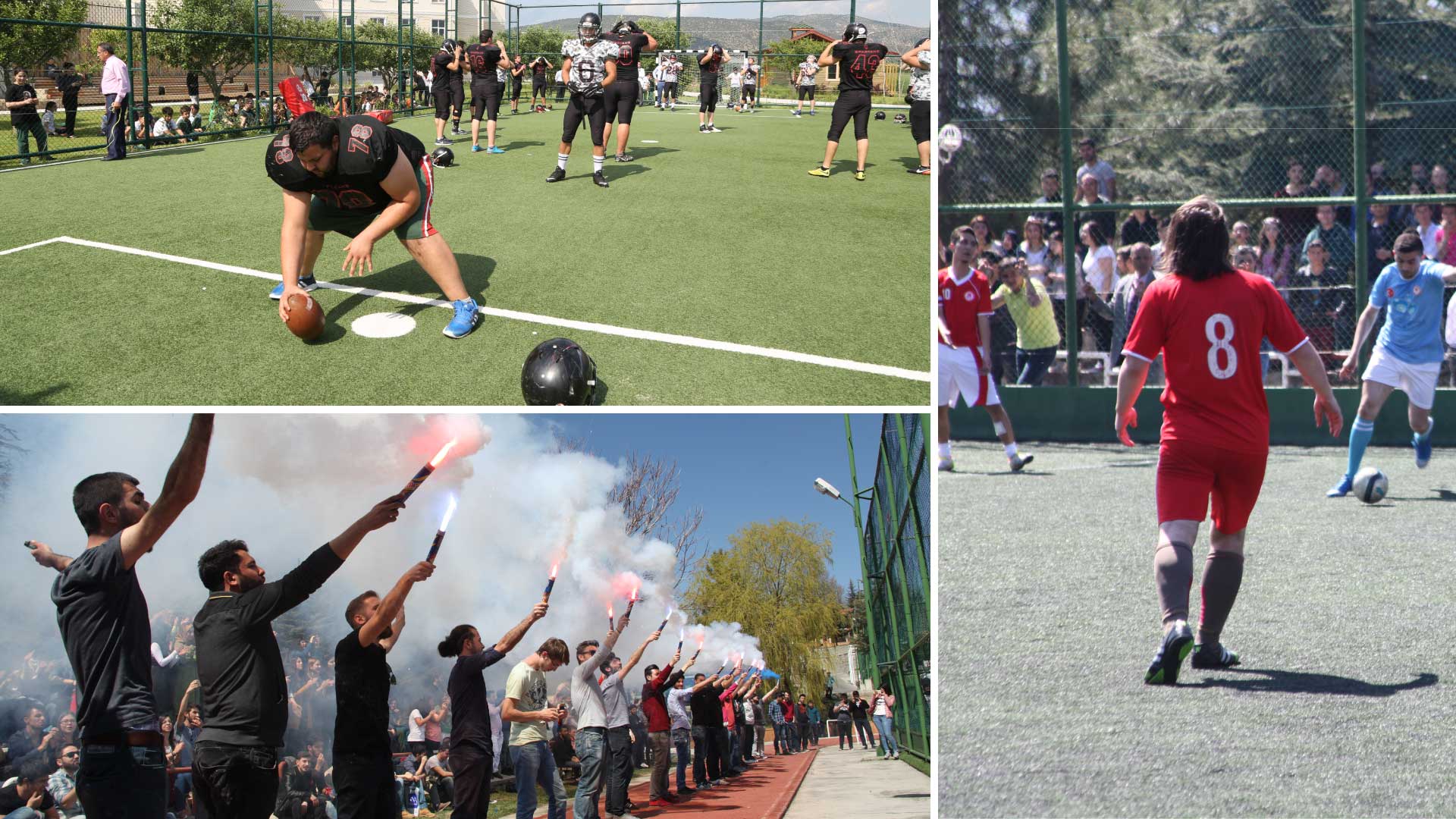 1) Tennis Courts: There are 4 indoor and 2 outdoor tennis courts. Tennis courts offer courses for students, academic and administrative staff.
2) 30 Ağustos Football Field: This grass football field has the capacity of 3,400 spectators. Club football and American football competitions are played here. Our grass field is suitable for national and international federation matches (105 m x 70 m).
3) Carpet pitches: There are 2 carpet pitches suitable for day and night training and competitions with adequate lighting system. The carpet pitches serve our students and staff with reservation. They host events such as the tournaments and inter-departmental competitions.
4) West Campus Sports Hall: The indoor hall is built on an area of 1,750 square meters. The hall is suitable for sports like basketball, volleyball, handball, futsal, and table tennis.
In the indoor sports hall, courses, competitions, club matches and tournaments are organized. In addition, in the remaining time of these organizations, our hall can be used by our students and staff by making reservations. The fitness center in the hall is open to our students and staff. Participants who use the fitness center can work with an instructor. Pilates and step-aerobics courses are available for women only in a reserved section in the hall.
5) Outdoor Basketball Courts: Our 2 outdoor basketball courts are open to our students and staff with proper lighting and proper structure to practice at night as well as during the day.
6) Beach Volley Court: The beach volleyball court, which is mostly used during summer, is open for free use and for the use of our students and staff for tournaments and matches.
You can find the West Campus Sports Facilities program and price list via http://sportesisleri.sdu.edu.tr/tr/bati-yerleskesi-spor-tesisleri.html
Contact
29 Ekim Olympic Swimming Pool Reservation
Tel: 0246 211 83 19
Atatürk Sports Hall Reservation
Tel: 0246 211 47 97
West Campus Sports Hall Reservation
Tel: 0246 211 15 37
Natural/Artificial Grass Football Fields Reservation
Tel: 0246 211 15 37
Tennis Courts Reservation
Tel: 0246 211 15 37
ARTS & CULTURE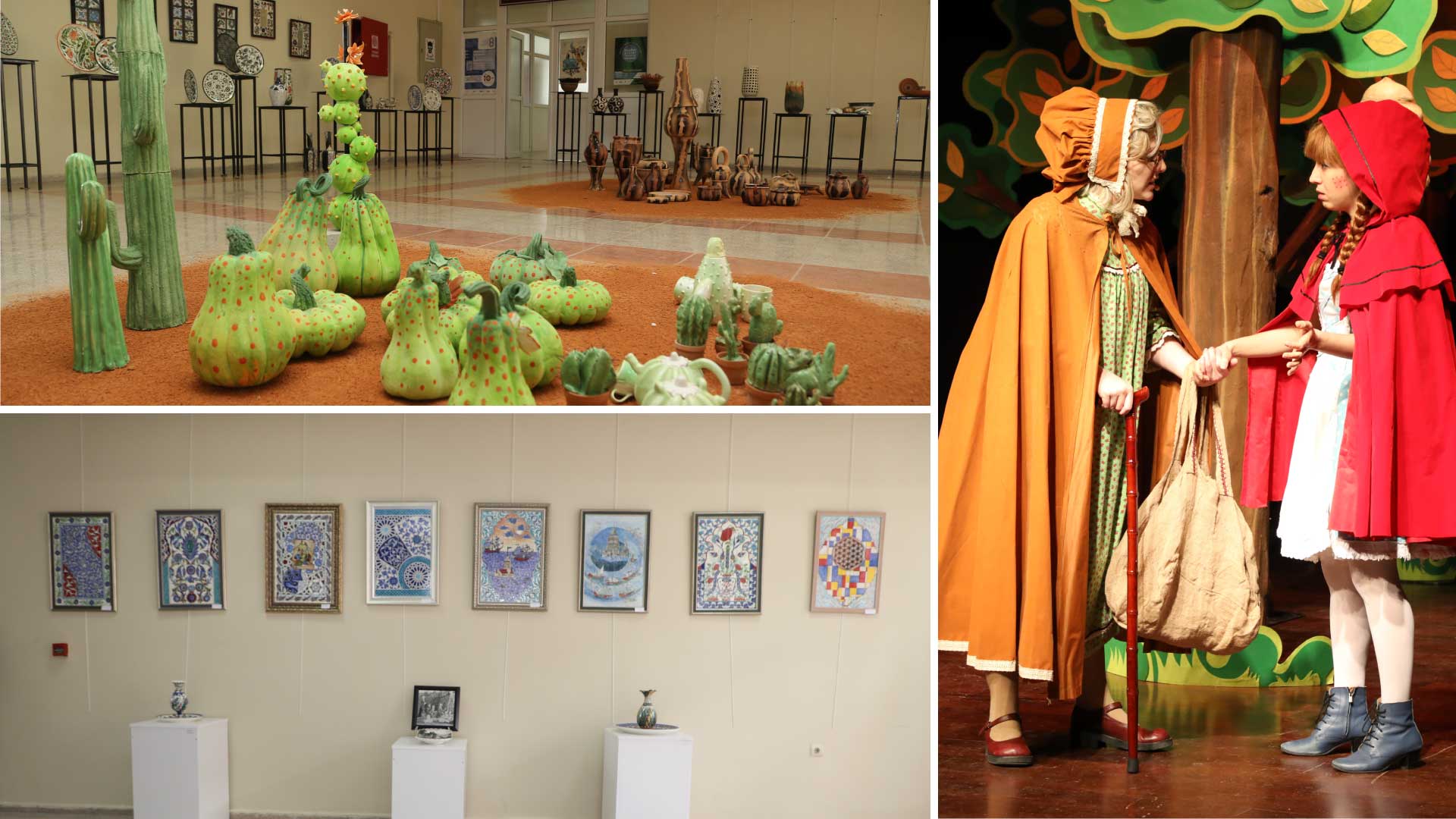 Every year, a number of events for students are organized within the campus and the faculties. Students can join them for free. Concerts, seminars, conferences and other activities are announced on the main web page. For oncoming events and further information, students can follow w3.sdu.edu.tr and notice-boards around the campus and the faculties.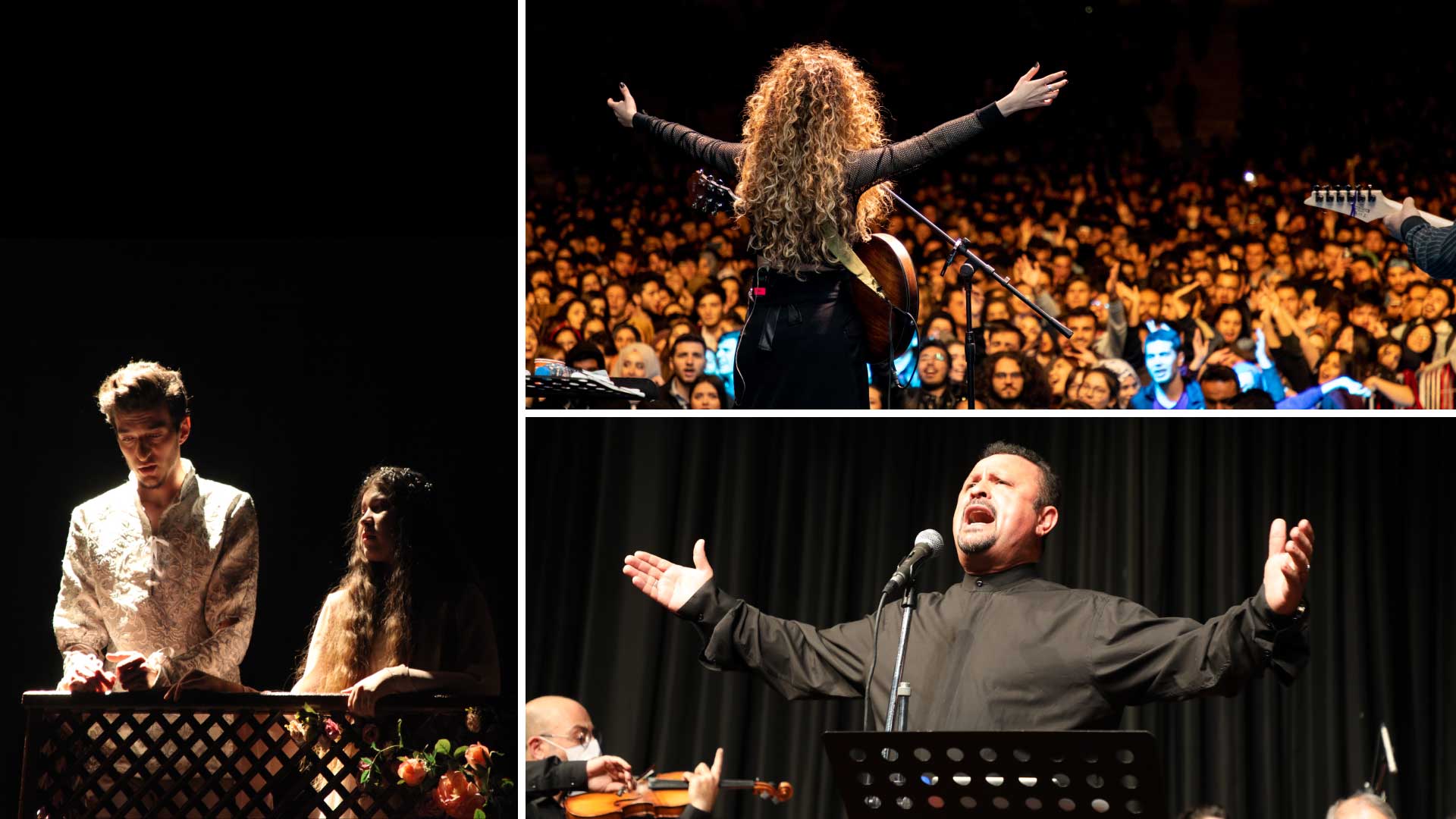 RECREATION & THE OUTDOORS
Natural Places
Eğirdir - Isparta lays on Lakes Region and Eğirdir is the most important one of them.
Yeşil Ada ("green island") is a small island connected to Eğirdir by a short causeway. Restaurants, hotels, pensions, hostels, and a few private residences fill the island. Known for its past as a Greek village, Yeşil Ada still has quite a few stone homes remaining from the Greek era.
Kovada – National Park is a rich working and recreation place for nature lovers. Many kinds of trees from red pine to juniper; from wild olive to kocayemiş (arbutus unedo) to menengiç (Terebinthina Chia), pırnal meşesi (quercus ilex) constitute the basis of the natural flora. Herbs like wild rose, daphne, blackberry, and boyacı sumağı (rhus cotnus) enrich this structure. The diversity of flora can be observed in wild life, however many animal species have been endangered due to hunting. Yet, you shouldn't be surprised to see martens, badgers, wild boars, foxes, squirrels or rabbits.
Kovada Lake is an important point for bird watchers as well. Its waters are valuable as it is a watering hole for migratory birds. Wild geese, ruddy shelducks, herons, wild ducks, woodcocks come to the lake. If you happen to see bouncing birds on the rocks, know that they are partridges. As for the inhabitants in the water, they are carps, sudak (Lucioperca lucioperca) ,pool fish, eğrez (vimba vimba), velvet fish, eels and fresh water lobsters.
Gölcük (a maar lake only 8 km away from Isparta city center and 1300 m. altitude ), Karagöl (Black lake), Beyşehir lakes are other important lakes in Isparta.
Tourism Sports Activities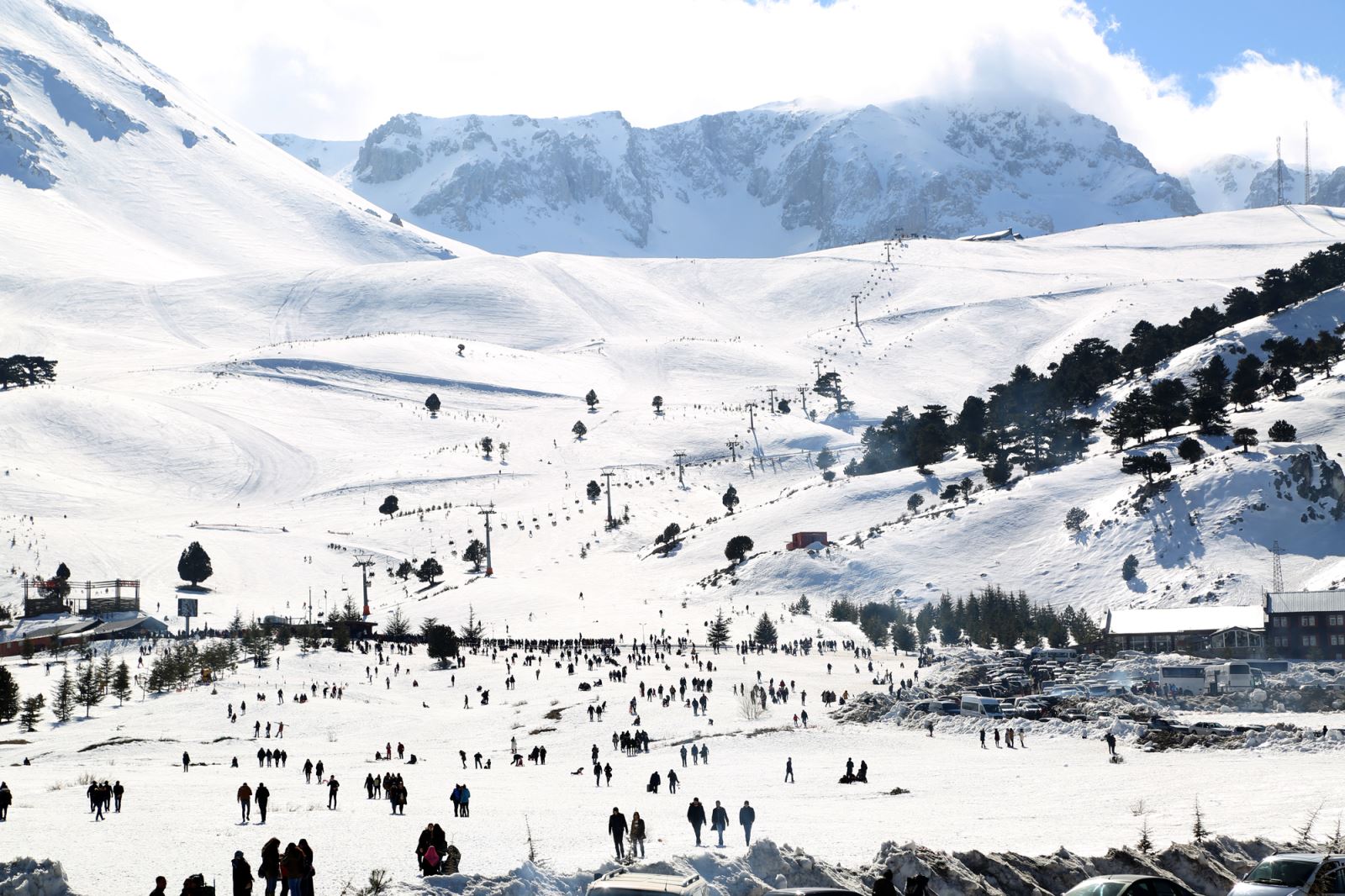 There are lots of important places listed below for winter sports, scuba diving, orienteering, abseiling, trekking, photo safari, paragliding, canoeing, bird watching, endemic flower watching, etc. You have a chance to do whatever you want because Suleyman Demirel University has all the clubs.
Mountain Tourism - Most important one is Mount Davraz. Davraz is a mountain and a winter sports and ski resort in the Taurus Mountains. It is only 25 km away from the center of Isparta and also Eğridir served by good road connections. The tallest peak (Büyük Davraz) at the resort is 2,637 m (8,652 ft) with the highest skiing height being at 2,250 m (7,380 ft). There are black, red, blue and yellow runs, so there are facilities (also Suleyman Demirel University has a Hotel in Davraz for all levels of skiers. Access to the slopes is via drag and chair lifts - depending on the particular run.
There are lots of places for single and tandem flights of Paragliding. An Aviation Society was founded in Suleyman Demirel University to develop aviation sports in Isparta. Courses are provided by qualified personnel. Below you see the places where you can fly.
Cave Tourism – there are 28 caves in Isparta. Zindan cave is the most important one of them. Also Pinarözü cave is the longest cave in Turkey with 12 km long.
Water Sports Tourism – At Eğridir lake; paragliding, jetski, water cycle, water ski, banana, beach camping and etc. At Kovada Lake National Park; amateur fishing, fish watch keeping, camping, trekking and etc.
Canyons - Yazılı Canyon – Sütçüler – Why yazılı (written)? Because there is Epictetus' poem about liberal human on a stone written by greek letters. St. Paul walked through this canyon while his journey from Perga to Pisidia Antiocheia. Becuse of this Yazılı Canyon is considered one of the holiest places for Christians and religious tourism.
Köprüçay Canyon – Aksu.
Historical Places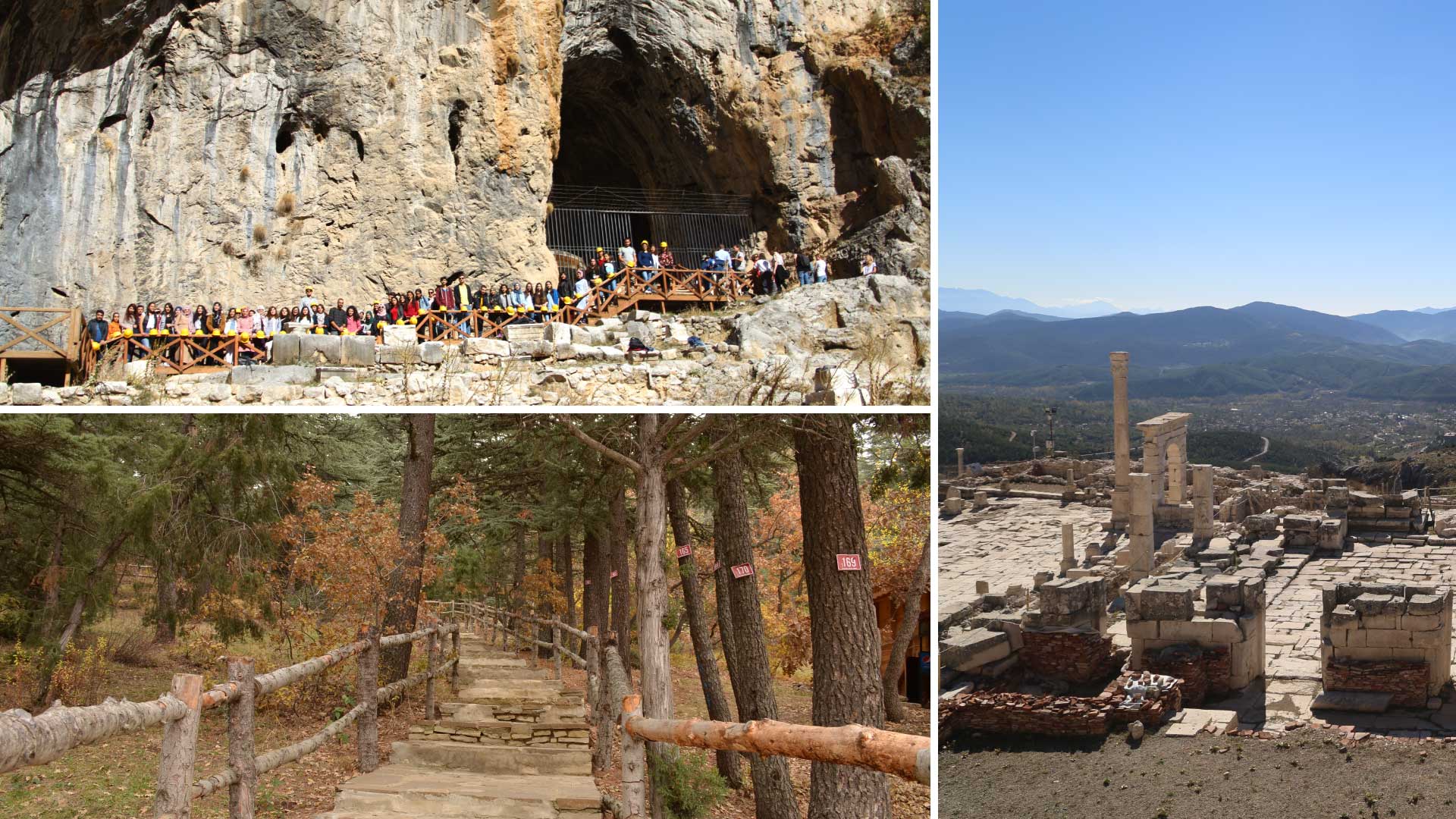 Ancient Cities - There are lots of ancient cities in Isparta. This is a perfect opportunity for archeology students and professionals. An archeology club was founded in Suleyman Demirel University. Below some of the ancient cities shown.
1. Antiocheia, Pisidya (Greek: Ἀντιόχεια τῆς Πισιδίας) Ancient City - Yalvaç – The site lies approximately 1 km northeast of Yalvaç, the modern town of Isparta Province.
2. Other Ancient Cities- Adada Ancient City – Sütçüler - 360° Sightseeing , Seleukeia Sidera Ancient City - Atabey, Mallos Ancient City – Eğirdir, Timbriada Ancient City - Aksu, Tynada Ancient City – Aksu, Parlais Ancient City – Eğirdir, Prostanna Ancient City – Eğirdir, Conana Ancient City – Gönen, Anaboura Ancient City – Şarkikaraağaç, Tymandos Ancient City – Senirkent
Castles – Eğirdir castle is said to have been built by Croesus, king of Lydia, although additions were built by the Romans, Byzantines, and Seljuks. Uluborlu Castle is a castle stands on a big rock and can be seen from everywhere.
Madrasas and Caravanserai- Here are some of them and location; Ertokuş Madrasas – Atabey, Dündarbey Madrasas – Eğirdir, Ertokuş Caravanserai – Gelendost...
Turkish Bath / Hammam - In city center there are two of them still in service; Dalboyunoğlu and Karabey.
Museums - One is in city center "Isparta Museum", other is in Yalvaç district "Yalvaç Museum" and other one is in Uluborlu district "Uluborlu Museum".
Lavender Gardens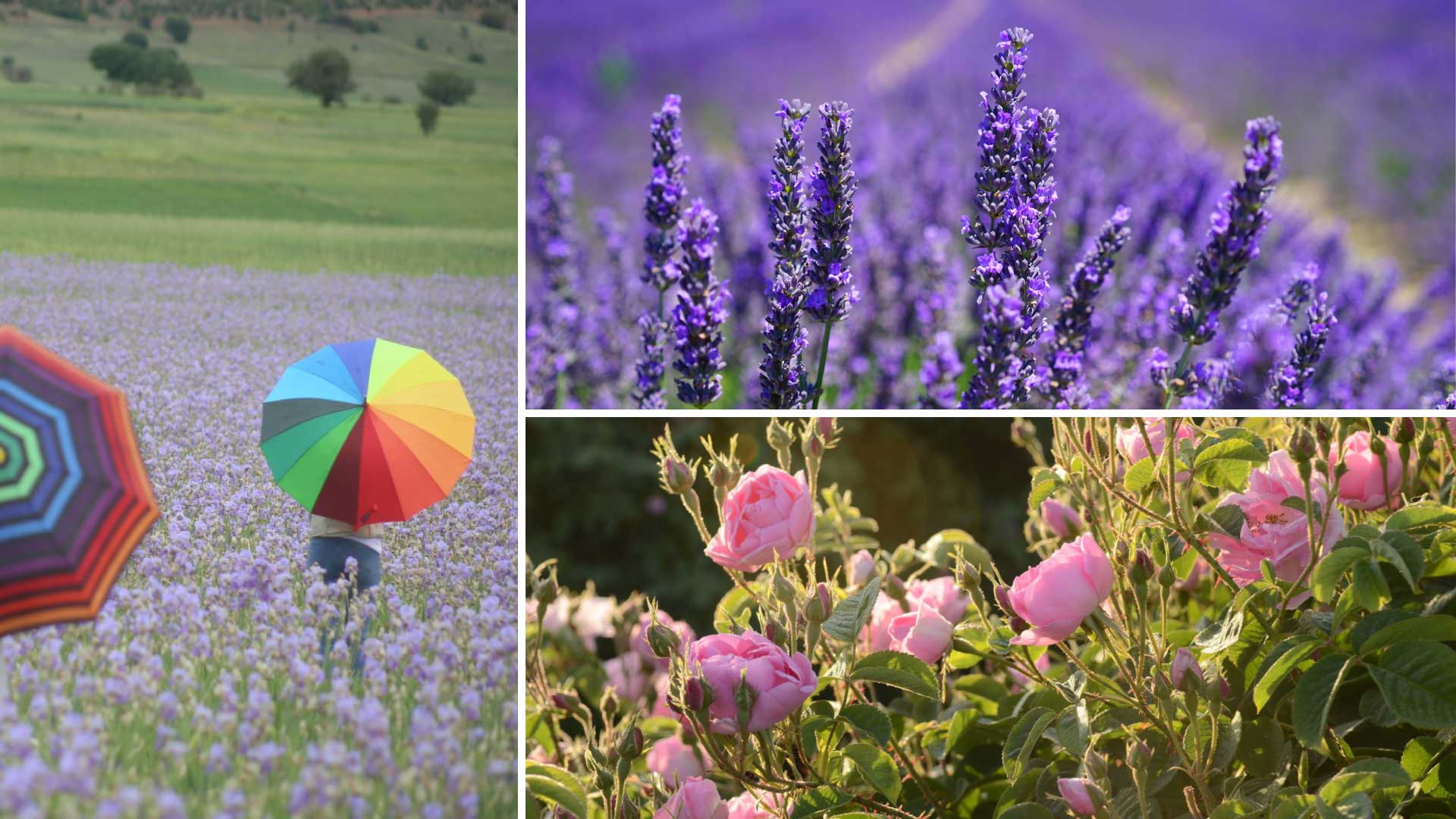 Lavender gardens are located on Kuyucak Village of Keciborlu, 50 kms away from Isparta City Center. Lavender, planted in 5000 decares in Kuyucak Village, usually blooms in the first days of July even if seasonal conditions effect the timing. Lavender cultivating period lasts between the last days of July and the middays of August.
90% of lavender production of Turkey is produced in Kuyucak Village. The purple colored fields in the bloossom time of lavenders are most suitable areas for photography. Hiking, cycling and photography activities can be done in the village in the blooming time
FRESHMAN GUIDE
How to get involved …..
Money
The monetary unit is the Turkish Lira (TL). Traveller's checks are not favoured in Turkey. ATMs can be found in even the smallest towns. Most accept international credit cards or bank cards (a strip of logos is usually displayed above the ATM). Almost all ATMs have a language key to enable you to read the instructions in English. Most commercial establishments accept international credit cards such as Visa, Master Card and American Express.
VAT
The value-added tax, here called KDV, is 18%. Hotels typically combine it with a service charge of 10% to 15%. Value-added tax is nearly always included in quoted prices. Certain shops are authorized to refund the tax so you must ask about this.
Electricity
The electrical current in Turkey is 220 volts, 50 cycles alternating current (AC); wall outlets take Continental-type plugs, with two or three round prongs.
Major Holidays in Turkey
Jan 1: New Year's Day
National holidays
Apr 23: National Sovereignty and Children's Day (anniversary of the establishment of Turkish Grand National Assembly in 1920)
May 1: Labour and Solidarity Day (since from 2009)
May 19: Atatürk Commemoration and Youth & Sports Day (the arrival of Atatürk in Samsun in 1919, and the beginning of the War of Independence)
Aug 30: Victory Day (victory over invading forces in 1922).
Oct 29: Republic Day (anniversary of the declaration of the Turkish Republic in 1923)
Religious holidays
Ramazan Bayramı: Three-day festival when sweets are eaten to celebrate the end of the fast of Ramadan month. Also known as "Şeker (sweets) Bayramı" since it's customary to offer candies to family members and friends that are visiting.
Kurban Bayramı: Four-day festival when sheep or cows are sacrificed and their meat distributed to the poor.
The dates of these religious festivals change according to the Islamic calendar and thus occur 10-11 days (exact difference between Gregorian and Lunar calendars is 10 days and 21 hrs) earlier each year.
Local Time
Standard time zone: UTC/GMT + 2 hours
Telephone & Internet
Students can go online via SDU Wifi or Eduroam in the campus and the faculties provided that their mobiles and computers are authorized by Authenticode security technology (by MAC address authentication on kablosuz.sdu.edu.tr).
To make a long-distance call (any call outside of your area code), you have to dial the long-distance prefix (0) before the seven-digit local phone number. Here are the area codes for Turkey´s major cities:
Ankara 312
Istanbul (Asian side) 216
Istanbul (European side) 212
Izmir 232
Currently, there are three major mobile service providers in Turkey. Each Turkish mobile provider uses a range of area codes (or mobile prefixes).
Turkcell 530-539
Vodafone 540-549
Turk Telekom 500-509
Useful telephone service numbers
155 Police
112 Ambulance
110 Fire
170 Tourism Info
Life in Isparta City
The average cost of living for a student in Isparta is approximately 1000 TL (180 US Dollars) according to the minimum conditions for the year 2019-2020. This includes accommodation in an average dormitory, transportation, food expense etc.
University students can accommodate in various places such as state and private dorms, studio apartments, self-catering houses and so on. State dorms cost approximately 500 TL a month with breakfast and dinner, hot water and canteen facilities in 2-8 students staying together in a room. Private dorms cost a little higher with similar facilities. Studio apartments offer only a furnished room with internet access from 400 to 1200 TL a month according to their location and services provided. Self-catering houses can only be rented for about 700-1200 TL a month. They are usually preferred when 2 or 3 students want to stay together in the same house as home mates.
For food and leisure time students can find a number of restaurants and cafes in and around the city centre in Isparta. Average food cost is 30 TL a day for a student.
How to Arrive in Isparta
There is no direct flight from other countries to Isparta. But there are some alternative ways to arrive in Isparta.
1. Your Home Country – Istanbul / Istanbul – Isparta (Connection Flight)
There is one flight per day between Istanbul and Isparta, which is operated by Turkish Airlines around 9-9:30 am. Isparta Süleyman Demirel Airport is located 30 km. out of the city center, however you will be able to get a free coach to the centre.
Important: There are two airports in Istanbul. The flight that you can use from Istanbul to Isparta departs from ''Istanbul Grand Airport'' (Code: IST). If you use the other airport, Istanbul Sabiha Gökçen Airport (code: SAW), you need to get to Atatürk Airport from Istanbul Sabiha Gökçen Airport.
2. Istanbul-Isparta (By Coach)
If you would like to come to Isparta from Istanbul by coach, there are many coach companies going 24 hours a day in the main coach terminal, Esenler Terminal in Istanbul. It takes approximately 10 hours to Isparta. It costs between (one way) 80-100 TL. Some coach companies that have a route to Isparta include Ulusoy Turizm, Pamukkale Turizm, Isparta Petrol Turizm, Kamil Koç Turizm.
3. Your Home Country – Antalya / Antalya-Isparta (By Coach)
Antalya is two hours away from Isparta by bus and it has an International Airport. Just check, if there is a flight from your city, you can fly to Antalya, then take the coach to Isparta. Coach tickets cost around 30 TL. Between 4:30 am – 11 pm you can find a coach to Isparta.
Name of Company Tel. Number Website
Isparta Petrol +90 246 227 23 73 www.ispartapetrol.com.tr
Kamil Koç +90 246 444 0 562 www.kamilkoc.com.tr
Pamukkale +90 246 227 35 35 www.pamukkale.com.tr
Climate
Isparta is a city in the south-west of Turkey. The population is about 450.000 (as of 2019) and elevation from sea level is 1035 m. Another name of the city is "City of Roses". Isparta has a continental climate with cold, snowy winters and hot, dry summers. The average temperature is 3-4 C in winter and 24-25 C in summer.